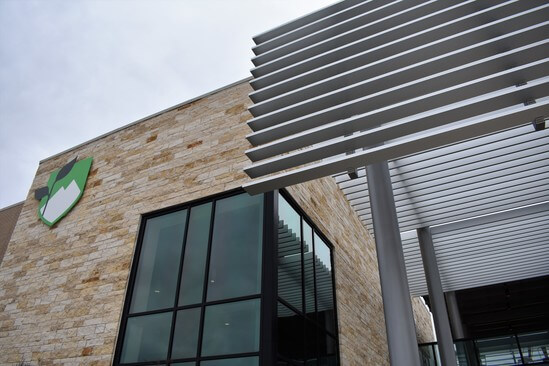 Why Use Aluminum vs. Steel for Canopies?
January 30, 2020
For your next canopy or awning project, you need something that's attractive, easy to maintain and effective in keeping the elements off employees and customers. Canopy Solutions builds high-quality aluminum canopies and awnings for architects and contractors across Texas and the Southwestern United States in half the time of our competitors.
Why do we use aluminum canopies as opposed to steel? Here's our breakdown of the top benefits of choosing aluminum walkway covers, sun shade canopies and awnings.
Aluminum vs. Steel Canopies: What's the Difference?
Historically, steel is seen as stronger and more durable than aluminum. Yet aluminum can last a long time if properly cared for. In addition, steel tends to be more expensive than aluminum and more difficult to maintain due to its heavy weight.
The Benefits of Aluminum Canopies
Here are the top three advantages of using aluminum for your canopy or walkway cover.
1. Lighter Weight
Steel may be strong, but it's heavy and hard to work with. Aluminum's light weight makes it more malleable and easier to install than steel. At Canopy Solutions, we design and install custom canopies, walkway covers and awnings made from lightweight aluminum. Less weight means it takes less time to install your canopy.
2. Easier to Maintain
Since steel is so heavy, a steel canopy or awning at your facility can be hard to maintain. If you need to move or relocate your canopy, it will be challenging and time-consuming to manage the heavy steel material.
Lightweight aluminum is the ideal choice for a canopy you need to take down occasionally for maintenance or move to a storage location during the offseason. Aluminum is resistant to rust and easy to clean for a convenient, reliable canopy solution.
3. Architecturally Pleasing
First impressions are highly influenced by the aesthetics of a facility. High-quality aluminum sun shade canopies and awnings offer a sleek, modern appearance to outfit buildings with functional beauty. When choosing your canopy materials, you want something that will be pleasing to the eye and fit the architectural theme of the building. Luckily, aluminum is versatile and can be formed to create a unique grand entrance.
Contact Canopy Solutions for Your Next Project
Aluminum canopies and walkway covers give your building a modern, pleasing aesthetic and protect customers and employees from the elements. At Canopy Solutions, we design-build top-quality canopy and shade systems made from durable, reliable and long-lasting aluminum. With precise fabrication and quick turn times, we can assist with designing, engineering and driving costs down for your project.
If you are an architect or general contractor in Texas, Arkansas or Oklahoma and you want to learn more about our products, contact us today! Call Canopy Solutions at 713-510-3800 for more information about our aluminum canopies.