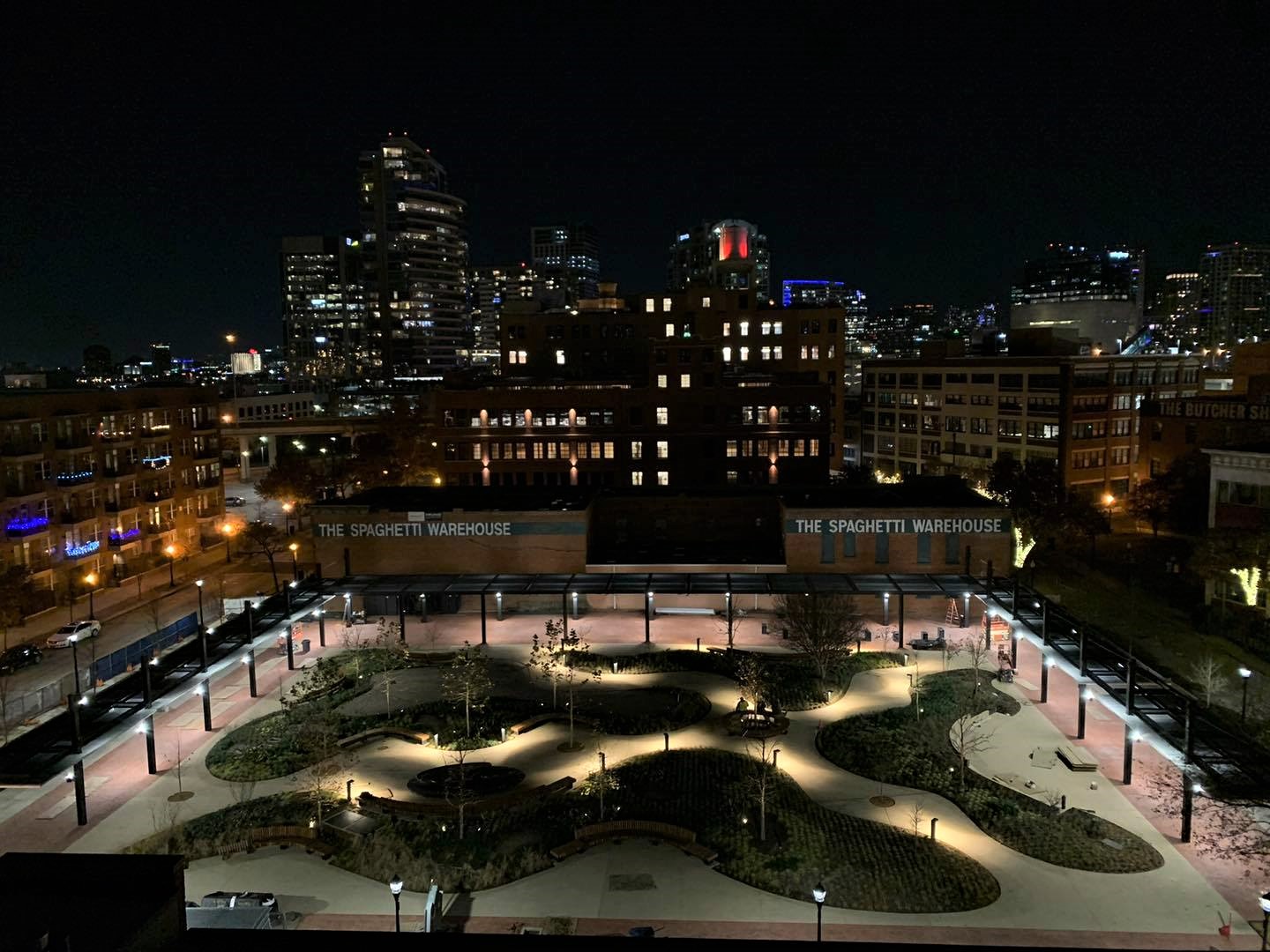 West End Square
May 9, 2023
Project: West End Square
Location: Dallas, TX
Year Completed: 2021
Size: 0.78 acres
Budget: $6.25 million (construction budget)
Client: The Beck Group
Owner: Parks for Downtown Dallas
Project Lead, Landscape Architecture, Urban Design: James Corner Field Operations
Sunshade System Design-Build Partner: Canopy Solutions
Collaborators: Pacheco Koch, Datum Rios, HLB Lighting Design, Purdy-McGuire, Inc., Datacom Design Group, Greenscape Pump Services, Jeffrey L. Bruce & Co., LLC, Order, Dallas Arboretum and Botanical Garden
West End Square, located in Dallas' historic West End district, is a cutting-edge public space designed by James Corner Field Operations in collaboration with Parks for Downtown Dallas and the City of Dallas Park and Recreation Department. Completed in 2021 with a construction budget of $6.25 million, the park spans 0.78 acres and balances history and innovation, catering to the district's growing population while serving as a testing ground for technology integration in public spaces.
Canopy Solutions played a critical role as the sunshade system design-build partner, providing a custom sunshade system for "The Frame", a U-shaped steel superstructure covering roughly 8,000 square feet and composed of extruded aluminum with a class I clear anodized finish. The primary shade component is 6″ elliptical airfoils set at various angles and orientations. However, the most challenging part of the project was the custom fabrication of the airfoils.
Canopy Solutions overcame several design challenges to create the sunshade system, including custom fabrication of the airfoils with closed ends for a seamless look. To achieve this, they created custom CNC end closures that were installed after anodizing with a specialized screw fora minimalistic aesthetic impact. Thermal expansion and dissimilar metal issues were also addressed with isolation measures. A shade analysis was conducted to determine the best blade size and spacing, and daily lean delivery methods were used to manage the compact urban site and adjacent trades working alongside.
West End Square's design features two unique environments: "The Frame", which serves as a flexible armature for a plug-and-play approach to technologies, and the Prairie Gardens, with organically shaped planting beds inspired by the Texas Blackland Prairies. The Frame hosts various amenities, including the Outdoor Workroom, Porch, Game Room, and Innovation Arcade, while the Prairie Gardens offer seating nooks, a water feature with three different modes, and a smart irrigation system.
Designed to support maintenance and operations, West End Square employs smart systems such as eco-smart LED lighting technology with smart sensors, wireless charging stations, Wi-Fi connectivity, and a weather sensor-triggered water table. The Frame also serves as a technology armature that enables the adaptation of the park over time as needs change.
The design and construction of West End Square involved a broad project team, including civil and traffic engineering by Pacheco Koch, structural engineering by Datum Rios, lighting design by HLB Lighting Design, and horticulture by the Dallas Arboretum and Botanical Garden. The park is situated at the junction of various downtown Dallas attractions, making it a central point for the existing network of neighborhood destinations.
West End Square emphasizes sustainability with its smart irrigation system, shade canopy, and locally sourced materials. The park has become a community anchor, hosting events such as salsa dancing classes, interactive art installations, and local vendor markets. It sets a precedent for urban parks with adaptability and sustainability at the forefront of design.
Despite logistical challenges posed by the urban setting of downtown Dallas, unforeseen existing underground site conflicts, and the ongoing COVID pandemic, West End Square was successfully completed thanks to exceptional planning and execution by The Beck Group's project management and site superintendent teams. Today, it serves as a vibrant community anchor for the residents and visitors of Dallas' West End Historic District, and Canopy Solutions is proud to have played a part in bringing this transformative vision to life.