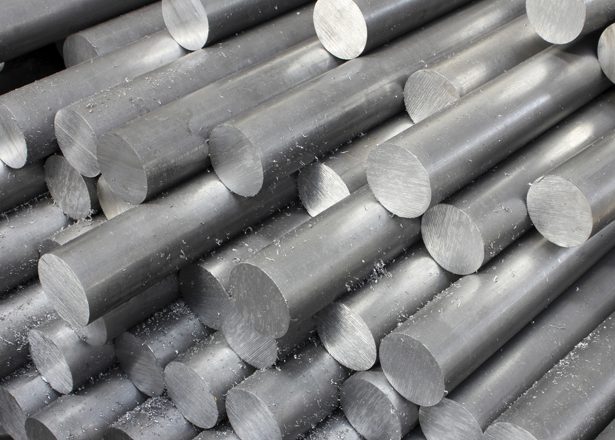 What Is Extruded Aluminum?
January 30, 2020
Extruded aluminum allows for a wide variety of custom and standard shapes to be used across industries. You may see extruded aluminum parts in architecture, shipbuilding, car parts, infrastructure, electronics and much more. Each one takes advantage of the versatile nature of aluminum.
The use of aluminum alloys offers manufacturers a way to imbue their part with specific qualities, like strength or corrosion resistance, while the extrusion process allows for pieces that are as simple or complex as needed.
But what is aluminum extrusion? The process is relatively straightforward, and we'll tell you all about it in this post, along with the benefits and uses for extruded aluminum.
Aluminum Extrusion Process
Extruding aluminum is a little bit like making pasta or putting playdough through the spaghetti-making tool. You put a large piece of softened dough into a press and push it through a defined cutout. It comes out the other side in the shape of the cutout. Aluminum extrusion isn't terribly different but on a much larger, much hotter scale.
First, to make the shape you want, a die maker creates the piece that the aluminum will be pushed through. These dies can be any combination of solid, hollow and semi-hollow and as complicated or simple as necessary. Up next is the process of setting up the extrusion mill with this die and a billet. A billet is a solid piece of aluminum in a log shape. When heated, it becomes soft enough to reshape.
The billet is loaded into the press, along with lubricant to keep it from sticking to the other components. High pressures force the aluminum billet through the die, causing the final shape to emerge from the other side. This new shape is long but uniform.
After the final shapes come out, they are cooled, usually with water jets. They are then moved to a stretcher where straightening and work hardening occur. After this, they are cut to size and treated. The treatment of aluminum extrusions involves speeding up its natural aging process with the use of specialized ovens. Doing this adds hardness and strength.
Benefits of Extruded Aluminum

Working with extruded aluminum offers many benefits to architects, contractors and product designers. Between the ease and versatility of the production process and the properties that make aluminum so wide-reaching, extruded aluminum products are the top pick for many. Here are a few reasons why.
Easy workability: The die-making process allows for many designs, and aluminum is known for being easy to work with. It isn't too hard to affect with tools, but it's not so soft that it loses its strength. It is malleable and workable.
Strength: Aluminum is known for its high strength, making it great for structural and mechanical components.
Resistant to rust and corrosion: Upon exposure to oxygen, aluminum generates a thin, protective coating called aluminum oxide that is naturally rust and corrosion-resistant without additional coatings or treatments.
Recyclable: Aluminum is 100% recyclable and allows you to make a product with a more positive environmental impact.
Affordable: Often, aluminum is more cost-effective than other metals. It is very commonly found in nature in its pure form, and so are many of its alloying materials.
Attractive: With plenty of options for finishing, including buffing, polishing, grinding, blasting, anodizing, coatings and more, there's no limit to making aluminum look the way you want it to.
Conductive for heat and electricity: Depending on the application, these can prove useful in many environments, including electronics and heating and cooling products.
Lightweight: Aluminum's strength-to-weight ratio is part of its charm. Aluminum is about a third the weight of steel with similar or superior strength. This characteristic makes it perfect for applications where the metal needs to carry a load but can't weigh much.
Extruded Aluminum Applications
Extruded aluminum is present in a large number of industries, each with a different purpose.
Transportation: Aluminum's high strength-to-weight ratio makes it ideal for applications in cars, railways, boats and more. It allows these vehicles to weigh as little as possible, saving gas and improving performance, and still stand up to high-speed impacts, better protecting the passengers inside. Aluminum also protects vehicles from environmental exposures like high temperatures, moisture and corrosive agents like salt in the winter with its inherent corrosion-resistant properties. Its strength also allows these vehicles to carry heavier loads.
Framing and portable displays:  Extrusion pieces can be combined to make frameworks, such as display equipment in retail stores or trade shows. They can also be used for photo frames.
Construction: Extruded aluminum projects come in all shapes and sizes. Aluminum paneling, stairwells, light fixtures and much, much more make use of extruded parts. Building facades, sunshades and canopies are also popular places for extruded aluminum. Canopies, for example, have to be capable of carrying a load in the instance of snow but can't weigh too much. They, like facades, also need to be attractive, which aluminum finishes offer. Extruded aluminum parts are an excellent choice of material and the one we use here at Canopy Solutions.
Energy: Aluminum has excellent electrical conductivity — twice that of copper, when measured by weight — making it an excellent choice for power systems in many industries and facilities. It is also common in mounting systems for solar panels due to its light weight and low maintenance requirements. Other power structures utilize aluminum for its ability to hold up in high winds and snow loads.
Military and defense: Aluminum extrusions also find a home in defense applications, from military vehicles and ships to tent structures and landing mats. Its high strength and low weight are ideal for the demands of the defense industry.
Aerospace: Even the International Space Station (ISS) isn't complete without aluminum. It uses extruded aluminum tubing for truss structures to link the ISS together. Other high-end military vehicles and standard aircraft make use of extruded aluminum parts.
Contact Canopy Solutions for Custom Aluminum Sunshades

Extruded aluminum parts are common across industries for properties like strength, weight and corrosion resistance. Architecture is no different. Here at Canopy Solutions, we make our building canopies and sunshades with extruded aluminum parts, so they can stand up to harsh environments like rough winds and snow, without weighing so much that it puts significant strain on the building.
Our solutions are custom-built to your needs and delivered faster than the competition. You'll get detailed job analysis and a result that is aesthetically pleasing and functional. Protect your guests from the elements while adding a beautiful component to the outside of your building to "wow" anyone walking by. For more information on extruded aluminum canopies, reach out to our team today.