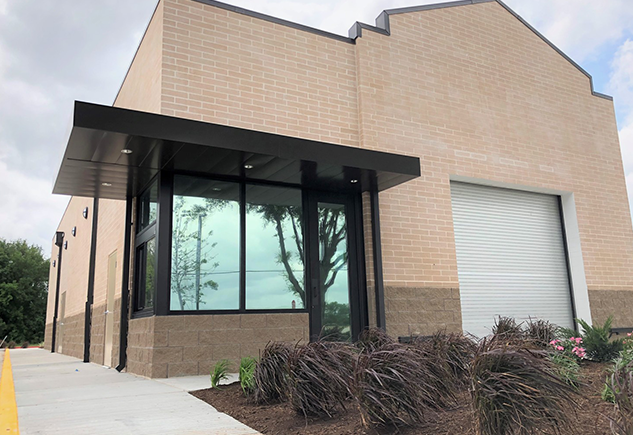 What is a Louvered Awning and What are the Benefits?
October 24, 2019
If you're looking for a reliable canopy solution that will add an extra layer of beauty and functionality to your building, it's hard to go wrong with a louvered awning system. This awning style can provide any walkway, storefront or house patio with the perfect balance of sunlight and shade. No matter what type of building you're constructing, the louver awning will help you drive up property value and please potential investors.
What Does "Louvered" Mean?
A louvered structure is an object with evenly positioned slats that can either block or allow in the light. It's similar to having window blinds in your home or business, but it's a more powerful solution that can withstand the elements and offer cover on a larger scale.
Some of the most common types of structures are louvered window awnings and louvered roof awnings. For instance, a business might use one of these roof awnings in front of their office or facility to control sunlight and rain while making the building stand out visually.
Roof awnings are made of either a wooden or aluminum frame and multiple vertical supports, which allows them to provide maximum aesthetic appeal and shade. Some louvered roof awnings even have controls that allow users to adjust the slats according to the sun's position. Meanwhile, window awnings often extend straight out or vertically from the window, limiting the amount of light that enters the building.
Benefits of a Louvered Awning
The main advantages of installing a louvered awning on your property include:
Unmatched beauty and curb appeal: If you're constructing or enhancing a building, your goal is likely to make it as appealing as possible so that you can sell your work for the best price. Louver canopies will stand out on a property thanks to their attractive appearance. They'll even last for decades with the proper maintenance, so expect the value of your property to rise when you install a louvered structure on-site.
Shade on hot days: Ideal for homes, outside eating areas and walkways surrounding businesses, louvered roof awnings provide protection for individuals who may otherwise need to worry about the effects of too much sunlight. Your client will be pleased with the balance of sunlight and shade that your louvered awning offers, especially if they or their customers are expected to spend a significant amount of time outside.
Energy-efficient cooling system: Louvered awnings can also provide more energy-efficient cooling for your building. With louvered window awnings, the building will receive less direct sunlight, which will allow the owner to save energy and reduce expenses on air conditioning throughout the year. This feature may also greatly increase the value of your site.
Enhance Your Property With Louvered Awnings
A louvered awning can add a touch of beauty to your building that will make it stand out on the block. The structure will also provide long-lasting functionality for owners. Enhance your building's design and architecture today with the benefits of these reliable canopy solutions.
Contact us now if you have questions about our services!