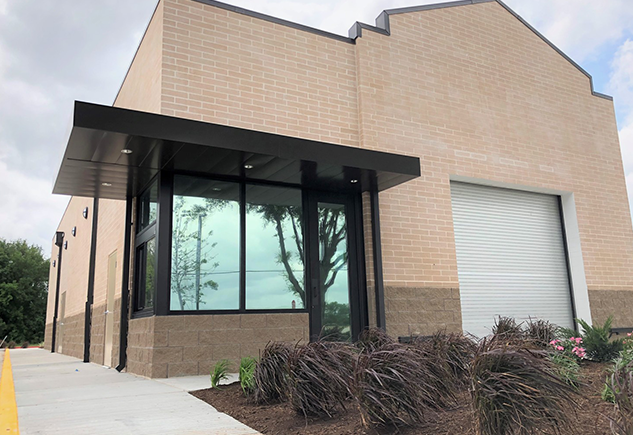 Common Applications for Walkway Canopies
September 27, 2019
A walkway canopy is so much more than just a decorative choice. The relief on a person's face when they can move from place to place under the protection of a canopy instead of having to brave the rain or hot sun is proof enough.
If you're an architect who's building or enhancing a piece of property, it's important for you to take a couple of factors into consideration, including the size of the property and the amount of foot traffic that regularly moves through the area. For properties that have a high volume of people moving in and out, an aluminum walkway cover could have major long-term benefits. Here are a few of the most common walkway canopy applications in public buildings.
Schools
Whether you want to keep kids safer as they move between buildings at school or make lives easier for college students living on campuses, walkway covers are ideal for school properties. Especially on large campuses, covered walkways can protect people from the elements while they walk to classes or wait to be picked up at the end of the day.
Students, faculty and staff members alike will appreciate the implementation of covered walkways. In addition, young children could benefit from the protection, especially if they're otherwise unequipped to handle the elements.
Prisons
Prisons can be huge in size, and they often have plenty of foot traffic moving in and out. This setup makes an aluminum walkway canopy a great convenience for the people who may need to walk between buildings.
Architects or contractors might choose to invest in prison walkway canopies that protrude from entryways, wrap around walkways outside buildings and more.
Churches
You can make church-goers' lives more pleasant with the help of sturdy aluminum walkway canopies. Many churches and other worship centers use walkway covers to increase attractiveness and keep the elements at bay.
If you're looking to provide a safer way for people to walk to their vehicles at the end of an event or travel between sections of the campus, a walkway canopy is a reliable and aesthetically pleasing option.
Office Buildings
If you want to raise the property value of a business office while creating a warmer, friendlier atmosphere, you might consider enhancing it with a walkway cover. As workers use entryways and walk to their cars at the end of the day, they'll feel much happier with protection from the rain and the sun's harmful rays.
Business office canopies may also help make better impressions on visitors with their high level of quality and aesthetic appeal. The experiences of workers, business partners and customers are key components of business success, and providing your client with a canopy solution will improve all these experiences.
Partner With Canopy Solutions
Architects and contractors can use aluminum walkway covers in a variety of settings to help enhance aesthetics and convenience. If you're developing a piece of property with heavy foot traffic, it could benefit from a reliable shield against the elements.
Contact us today to learn more about how you can incorporate canopy solutions into your project!