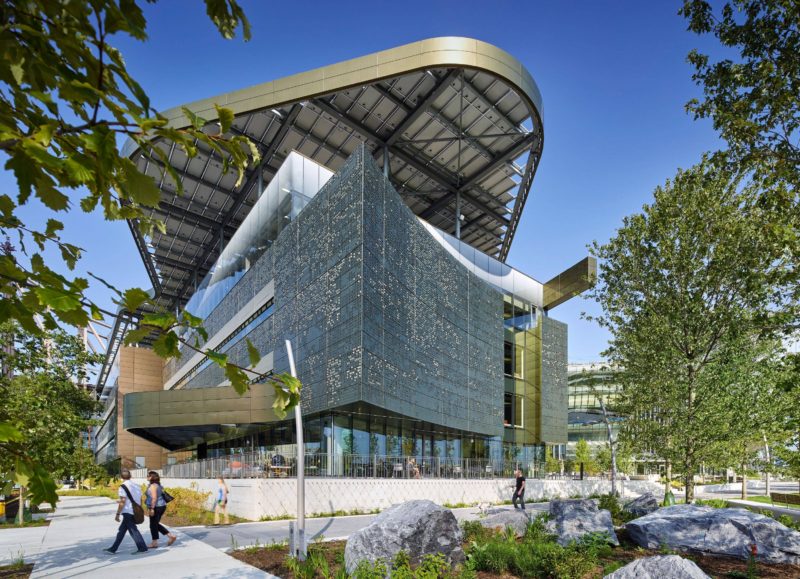 2018 MCA Chairman's Awards
July 24, 2019
Eight outstanding building projects awarded top honors
Eight of the most outstanding building projects from across the country have been announced by the Metal Construction Association (MCA). Steven G. Blye, AIA, LEED AP, creative director, associate director of health care at Legat Architects, Chicago; Steven Ginn of Steven Ginn Architects, Omaha, Neb.; and Paul Mankins, FAIA, LEED AP, founding partner of Substancearchitecture, Des Moines, Iowa; formed this year's panel of distinguished architects.
The Chairman's Awards go to the most exceptional buildings involving MCA member companies. The criteria include overall appearance, significance of metal in the project, innovative use of metal, and the role of metal in achieving project objectives.
Winners were announced at the MCA's Winter Meeting Awards Dinner in Key Largo, Fla., on January 15. Awards were given in eight categories: Overall Excellence; Residential; Metal Roofing; Education–Primary and Secondary Schools; Education–Colleges and Universities; Institutional; Municipal; and Commercial/Industrialz
Award recipients are selected annually from projects submitted by MCA members to Metal Architecture's annual Design Awards program. "This year's winners use metal in a variety of different ways that are innovative and thoughtful, beyond trendy," Ginn remarks. "The majority of these are relatively timeless."
Overall Excellence
The Emma and Georgina Bloomberg Center at Cornell Tech, Roosevelt Island, New York City
The first academic building on the Cornell Tech's Roosevelt Island campus, The Bloomberg Center was designed by Morphosis Architects to be the "intellectual nerve center" of the campus, with classrooms, instructional labs, conference rooms, a lecture hall, café and other shared spaces. Environmental sustainability is combined with leading-edge design to achieve LEED Platinum certification, making the center, which cost $100 million, one of the country's largest net-zero academic buildings.
The metal rainscreen, designed to prevent moisture from entering the building and heat from escaping, is integrated with various smart building technologies as well as geothermal wells with ground-source heat pumps for heating and cooling; a 40,000-gallon rainwater-harvesting system; and a green roof planted with native species. These strategies, together with a 40,000-square-foot solar canopy, help the building generate as much energy as it consumes.
The outermost layer of the façade is made of aluminum panels surfaced in an iridescent coating featuring a copper-brown patina. Viewed from afar, the panels register a continuous image that merges the river-view scenery from Cornell Tech's Roosevelt Island location and Cornell University's idyllic campus in Ithaca, New York. While the design team chose the coating in part to manage heat gain, the ability to shift color made it the product of choice.
"Of all the projects, this is the most imaginative in terms of exploring the use of metal," remarks Blye. "It uses metal in so many different ways, it's almost disguised."
Building owner: Cornell University, Ithaca, N.Y.
Architect: Morphosis Architects, New York City, www.morphosis.com
General contractor: Barr & Barr, New York City, barrandbarr.com
Metal installers: W&W Glass LLC, Nanuet, N.Y., www.wwglass.com; and Precoat Metals, St. Louis, precoat.com
Metal fabricator: Island Exterior Fabricators, Calverton, N.Y., www.islandef.com
Perforated louvered panel system: A. Zahner Co., Kansas City, Mo., www.azazhner.com
MCA member coating manufacturer: PPG Industries Inc., Pittsburgh, www.ppgideascapes.com
MCA member coil coating manufacturer: Precoat Metals, St. Louis, precoat.com
Commercial/Industrial
IBEW Local 134 Headquarters/Union Hall, Chicago
The $25 million project totals approximately 70,000 square feet: a 48,000-square-foot retrofit of the former Chicago Public Schools' 1960s Drake Elementary School into IBEW administrative offices, plus a new 22,000-square-foot wing to house the IBEW's union hall and lobby. According to Milica Stojsavljevic, project designer from Wight & Co., IBEW union leaders "wanted to create a gathering place that puts light on the union's future as well as its legacy, a state-of-the-art facility that would set a precedent."
The project impacts the Bronzeville neighborhood revitalization not just aesthetically but socially, educationally and economically. The school's original gymnasium has been renovated into a community center where neighborhood residents can play basketball, soccer and other indoor sports for free. IBEW 134 is also partnering with nearby Dunbar Vocational Career Academy High School to provide instructors to teach electrical courses whose graduates will be guaranteed positions in the union's pre-apprentice program.
The existing school building serves as Local 134's business headquarters and houses offices, conference rooms and lounges—spaces that were not complementary with the previous classroom layout. Everything was demolished except for the concrete structure and to rebuild the exterior skin and interiors. Aluminum panels were chosen with a proprietary fire-resistant core and custom colors to create a silhouette around a light-filled wall.
"This project takes a union hall beyond what anyone would typically do," comments Blye. "The design is so elegant it could easily serve as a theater or museum."
Building owner: International Brotherhood of Electrical Workers (IBEW) Local 134 Architect/general contractor: Wight & Co., Darien, Ill., www.wightco.com
Metal installer: Architectural Panel Systems Inc., Naperville, Ill., www.architecturalpanelsystems.com
MCA metal fabricator: Sobotec Ltd., Hamilton, Ontario, Canada, www.sobotec.com
MCA member manufacturer: 3A Composites USA Inc., Davidson, N.C., www.alucobondusa.com
MCA member coating manufacturer: PPG Industries Inc., Pittsburgh, www.ppgideascapes.com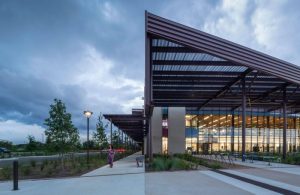 Education–Colleges and Universities
Austin Community College Campus Center, Leander, Texas
The design team was challenged to create an attractive, inviting campus in a 100-acre cow pasture. Historical building forms, patterns and materials of Central Texas—simple geometries, lots of shading, and materials such as limestone, metal, wood and glass—all came together in an architecture rooted in place and time.
The selection of materials was inspired by unique regional assets: the ranch, the creek and the railroad. Corrugated, flat, and ribbed metal panels reflect the muted grays and rich rust colors found in ranch landscapes. In consideration of the harsh Central Texas sun, changing patterns of light and shade allow for seasonal use of outdoor spaces while adding visual depth and design interest to facades. Weathered metals comprise the expansive, shade-providing porch, the stair tower that provides a beacon for the campus, and the tanks used to harvest rain and irrigate the landscape.
"Even with the brick and other materials, the metal encompasses the building all the way around," Blye points out. "It doesn't stop at a trellis or a canopy, but it integrates itself. It's celebrating metal as a special material that highlights the rest of the building."
Building owner: Austin Community College, Austin, Texas
Architects: SmithGroup, Dallas, www.smithgroup.com; and Pfluger Architects, Austin, www.pflugerarchitects.com
General contractor: American Constructors, Cedar Park, Texas, www.americanconstructors.com
Aluminum canopy: Canopy Solutions LLC, Dickinson, Texas, www.canopy-solutions.com
MCA member manufacturer: CENTRIA, Moon Township, Pa., www.centria.com
MCA member coating manufacturer: PPG Industries Inc., Pittsburgh, www.ppgideascapes.com
MCA member insulation manufacturer: BASF Corp., Florham Park, N.J., www.basf.com
Education–Secondary and Primary
Memphis Business Academy, Memphis, Tenn.
Because the school refers to their students as executives, the design team set out to create a corporate environment. The single-story, pre-engineered metal frame building was created to meet the timeline, budget and best practices for sustainability to minimize the impact on the environment. The building provides 22,000 square feet of high-tech multipurpose classrooms and a gym with an elevated walking track available to members of the surrounding Frayser community, and flanked by an east-facing classroom block that maximizes morning light. A student plaza was placed between the new facility and the existing school to create an outdoor gathering place.
Metal was selected for this project because of its cost-effectiveness, durability, visual appeal and low upkeep, with maintenance costs decreasing over the life cycle of the building. The color selections for the corrugated aluminum facades are congruent with the school's logo.
"An economy of steel is being expressed in a very straightforward way, highlighted with color and elevated with just the right amount of design," comments Mankins.
Building owner: Memphis Business Academy
Architect: Self+Tucker Architects, Memphis, selftucker.com
General contractors: Montgomery Martin Contractors LLC, Memphis, www.montgomerymartin.com; and Bricks Inc. General Contractors, Memphis, (901) 743-0990
Metal installers: Gulf States Manufacturers, Starkville, Miss., www.gsmnucor.com; and Ralph Jones Sheet Metal, Arlington, Texas, www.rjsm-inc.com
Metal building system: Gulf States Manufacturers, Starkville, Miss., www.gsmnucor.com,
Entrances: Kawneer Co. Inc., Norcross, Ga., www.kawneer.com
MCA member manufacturer: Petersen Aluminum Corp., Elk Grove Village, Ill., www.pac-clad.com
Institutional
Ballet Memphis, Memphis, Tenn.
Having outgrown its suburban space, Ballet Memphis sought to move to the city's revitalized performing-arts district. The new facility houses rehearsal space for the professional company, a dance school for more than 200 children, and community dance and Pilates classes. The largest rehearsal studio also doubles as a performance venue.
Transparency, a major aspect of the Company's mission, is expressed in the building's use of metal—a material that's not typically see-through but is transformed as such in this case by the perforation of the panels. The zinc and copper, which will age beautifully over time, were also key to staying on budget and within the aesthetic context of several houses in the neighborhood having copper elements.
"This project reinforces the street corridor and the relationships throughout the neighborhood," comments Ginn. "You don't lose the identity of the street. The space between the copper and the steel creates another layer, a narrow street façade."
Building owner: Ballet Memphis
Architect: archimania, Memphis, www.archimania.com
General contractor: Grinder, Taber & Grinder Inc., Memphis, grindertaber.com
Metal Installer: Ralph Jones Sheet Metal, Arlington, Tenn., www.rjsm-inc.com
MCA Member Manufacturer: Petersen Aluminum Corp., Elk Grove Village, Ill., www.pac-clad.com
Municipal
Eleanor Boathouse, Chicago
The 19,000-square-foot facility is the last of four new boathouses and river launches created by the Chicago Park District to reclaim the Chicago River as a major system of parks and water-based recreation. The design, incorporating alternating roof trusses, was inspired by the rhythm and motion of rowing.
"There's a Nordic feel to this," observes Ginn. "It has a playfulness of bringing aspects of a boat into the design."
The zinc used is 100 percent recyclable with a potential life span of 100 years or more. This choice of material aptly expresses the intent of conservation in regard to the river itself.
"By making the riverfront a destination for recreation, anchored by dynamic sustainable architecture, we hope to catalyze long-term stewardship and support of the river's remediation," says architect Jeanne Gang.
Building Owner: Chicago Park District
Architect: Studio Gang Architects, Chicago, studiogang.com
General contractor: Walsh Construction Co., Chicago, www.walshgroup.com
Metal installer: Bennett & Brosseau Inc., Romeoville, Ill., www.bennettandbrosseau.com
MCA member manufacturer: RHEINZINK America Inc., Woburn, Mass., www.rheinzink.us
MCA member regional rollformer: Sheet Metal Supply Ltd., Mundelein, Ill., www.sheetmetalsupplyltd.com
Metal Roofing
Ontario Place Pavilion, Toronto
The pavilion, which sits at the end of a performance lawn at Trillium Park and William G. Davis Trail at Ontario Place in Toronto, was designed to provoke curiosity and invite use as a meeting place for small events and gatherings. The steeply sloped zinc roof is the focal point. With peaks and valleys reflective of the silhouette created by Ontario's spruce and pine forests, the roofline of the pavilion forms a dramatic sculptural element. Zinc was selected for its naturally weathering patina, starting with a blue-grey color to encourage the process.
The roof's steep pitch and complicated intersections of panels made construction painstaking, but with striking aesthetic results. "It's a flat-out beautiful piece of sculpture all by itself," comments Blye. "It's taking a very simple roof form and distorting, twisting, and torqueing it to almost suggest a small village."
Building Owner: Ontario Place Corp.
Architects: LANDinc, Toronto, www.landinc.ca; and West 8, New York City, www.west8.com
General contractors: Urbacon Buildings Groups Corp., Toronto, www.urbacon.net; and A-Con Construction Ltd., Bolton, Ontario, Canada, aconconstruction.com
Metal installer: Semple Gooder Roofing Corp., Toronto, semplegooder.com
Metal fabricator: Agway Metals Inc., Brampton, Ontario, Canada, www.agwaymetals.com
MCA member manufacturer: RHEINZINK America Inc., Woburn, Mass., www.rheinzink.us
Residential
Ledbetter Residence: Central Texas Lake Retreat House, Ledbetter, Texas
The Central Texas lake retreat consists of a weekend house and guest house for an art-collecting couple on 50 wooded acres. The owners wanted a palpable sense of intimacy and a design that captures a sense of the low-slung post oak landscape, contrasted to the open clear skies. The landscape of low horizontal bands of post oak is layered into a gentle topography of planes set against a broad sky, creating a dichotomy of closeness and grandness.
A broad roof with dramatic overhangs shelters the house from the intense Texas sun; at night, the metal reflects light from simple floodlights mounted in the roof structure.
"The industrial metal is used in a very simple and elegant way on this project," says Ginn. "The patina, weathered steel and other materials come together with a strong level of craft and detail."
Building owners: Brad Nagar and Reid Sutton
Architect/general contractor: m + a architecture studio, Houston, www.maarchitecturestudio.com
Metal installers: Ideal Roofing, Houston, www.idealroofingservices.com; and m + a architecture studio, Houston, www.maarchitecturestudio.com
MCA member manufacturer: MCBI, Houston, www.mbci.com